Employers must mitigate the risks associated with workplace stress, as recent statistics and the latest Government Covid advice point to an even 'bluer' Monday
Although businesses have become more aware of the issues surrounding mental health, statistics show that work-related stress is still prevalent across all regions of the UK, and with the Government now advising organisations to practice remote working where possible, the post-Christmas blues are likely to be compounded for many employees.
This year, 'Blue Monday' falls on January 17, having been given this gloomy title due to a combination of the post-Christmas comedown, cold dark nights and the arrival of unpaid bills. As it stands, the prospect of prolonged isolation due to recent Government advice will only add to the already damning stress statistics, in which 79% of employed British adults commonly experience work-related stress.
With this in mind, it is important that employers prepare for the difficult weeks and months ahead, implementing policies and procedures that will ensure incidents are handled appropriately, and the wellbeing of employees is protected, no matter where they are physically working from.
Tina Chander, Head of Employment Law at Wright Hassall, commented: "Although the UK is in a much better position compared to this time last year, we are not out of the woods yet, especially as the number of cases linked to the recently-discovered Omicron variant continue to rise.
"The issue of work-related stress is not exclusive to a specific industry or location, and this is reflected in the eye-opening statistics presented in recent studies, whereby an overwhelming majority of employed adults frequently experience stress.
"With entire workforces preparing to work remotely again, it can be difficult for managers to keep a close eye on colleagues, which unfortunately increases the risk of incidents being missed, and employees feeling alone and isolated at home.
"Therefore, it is critical that employers up and down the country take the necessary steps to combat work-related stress, especially over the next month or two, when people generally feel more deflated than normal.
"To give you a better understanding of how widespread these issues are and why it is important to seek professional legal advice if there is any uncertainty, we have offered a full regional breakdown of stress statistics provided in official reports."
The current situation
According to last year's HSE Health and Safety at work report, there were 822,000 people suffering from work-related stress, depression or anxiety (new or long-standing). With the Coronavirus pandemic highlighted as the main contributing factor by respondents, there is good reason to believe that further Government restrictions will only exacerbate this problem.
Findings from the 2020 UK workplace stress study also support this, as just 1% stated they 'never' experience work stress, whilst 17% said they 'rarely' do. Besides the pandemic, some of the other key contributing factors for stress were workplace politics (37%), lack of communication (34%) and the performance of others (33%).
When you consider that two of the biggest complaints of remote working is that it interferes with internal communications and negatively impacts productivity, then it is easy to see why the new guidance could add to the stress being felt across all regions of the UK.
Here is how the various regions rank in terms of work-related stress experienced on a weekly basis: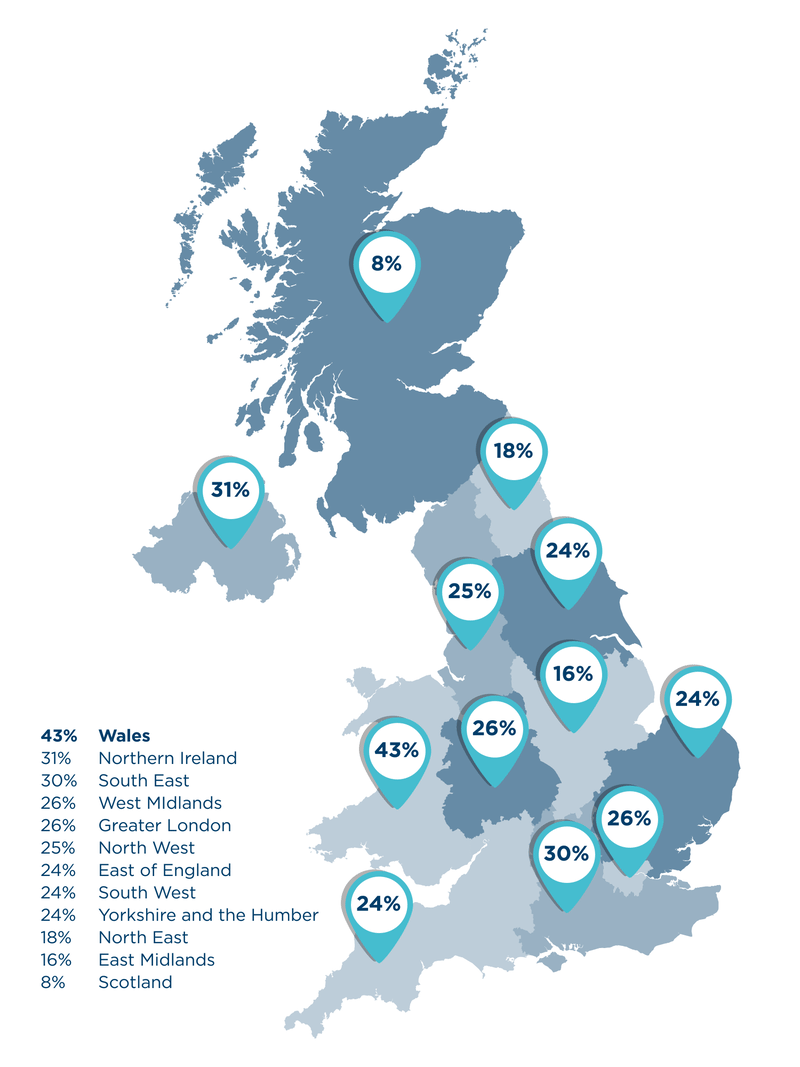 Without the appropriate care and support, there is a risk that this stress can lead to more serious mental-health issues, such as anxiety and depression. With 51% of people saying that stress disrupts their ability to concentrate and focus at work, it is clear to see why employers should be taking the issue seriously, especially in the current climate.