Employers must familiarise themselves with existing contracts, as latest Supreme Court judgment offers zero-hours workers and employees new rights
For years, zero-hours contracts have come under significant media scrutiny, as the practice continues to divide opinions regarding its perceived benefits. Although these types of contracts have become increasingly popular in recent times, due to the flexibility they offer, there continues to be some skepticism surrounding the rights of zero-hours workers and employees.
That being said, the latest landmark legal judgment made by the Supreme Court represents a positive step forward in terms of their employment rights. According to the ruling, all employees and workers in the UK will now receive the same minimum level of paid annual holiday leave, regardless of how many hours they work.
Given that the latest figures from the Office for National Statistics show there are now 1,018,000 people in employment on a zero-hours contract in the UK – an annual increase of 139,000 (0.4%) – this latest development should prompt employers, employees and workers to review existing contracts, ensuring that compliance is achieved.
According to the Supreme Court's ruling, the amount of annual leave for workers and employees who have a permanent contract which is in force for the full year but who are employed for some weeks of the year should not have their holiday entitlement calculated on a pro-rata basis.
Tina Chander, Head of the Employment Law Team at Wright Hassall, commented: "The Supreme Court ruling once again brings the topic of zero-hours contracts to the fore, as workers and employees are now entitled to a full year's statutory holiday entitlement which is currently 5.6 weeks per annum.
"Under a zero-hours contract, employees are not obliged to accept every shift they are offered, the same way employers are not forced to provide work if they don't want to. This can be an attractive prospect for both parties, as it creates a culture of flexibility where workers are not locked into a strict full-time regime.
"Although your employer does not have to give you any minimum working hours if you have a zero-hours contract, you can still be classed as an employee or worker. There are some significant distinctions between employee and worker status. For example, if you are classed as a worker then you are entitled to national minimum wage, paid holiday, rest breaks, protection from discrimination and protection from whistleblowing.
"However if you are classed as an employee, you are also afforded the legal protection to not be  unfairly dismissed and you are entitled to statutory redundancy pay. With this in mind, employers and employees should be mindful of this latest development and its impact on the employment rights of zero-hours workers."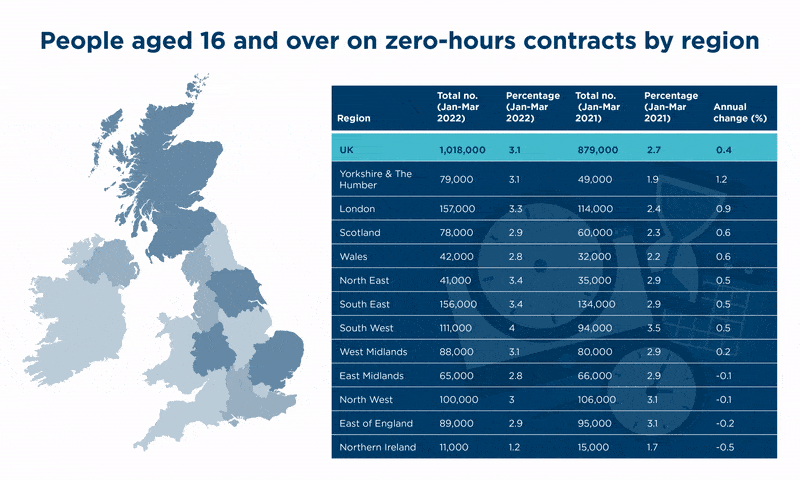 Which regions have the most zero-hours employees?
Interestingly, the latest data shows there has been an annual increase in the number of zero-hours workers and employees across 8 of the 12 regions. The largest percentage increase was seen in Yorkshire & The Humber, with 79,000 people in employment on a zero-hours contract as of March 2022, compared to 49,000 a year earlier (+1.2%).
They were closely followed by London, who saw a percentage increase of 0.9%, from 114,000 in 2021 to 157,000 as of March this year. This was in stark contrast to Northern Ireland, who saw an annual reduction in the number of zero-hours employees, from 15,000 to 11,000 (-0.5%).
The only other regions to experience a decline in the number of people on a zero-hours contract were East of England (-0.2%), East Midlands (0.1%) and North West (-0.1%). Overall, this amounted to a UK-wide increase of 0.4%, bringing the total number of zero-hours workers past the one million mark.
The growing popularity of zero-hours contracts in the post-pandemic era should prompt employers, employees and workers to review their existing agreements. If there is any uncertainty surrounding the issue, then it is best practice to contact an experienced employment law team for advice and support.